How Kenes Rakishev and Timur Kulibayev place "the order" in the Western media
rucriminal.info he continues to talk about the unprecedented PR activity of Kenes Rakishev in Kazakhstan, Ukraine, Russia and Europe. He pays for dozens of positive materials, both about himself, about the companies where he is the owner, and about his friend and senior business partner, the son-in-law of the President of Kazakhstan Timur Kulibayev. In particular, through the Weste media Kulibayev is "excused" from relations with Goga Ashkenazi. At the same time Rakishev and Kulibayev "wet" through the media opposition, and sometimes the daughter of Nursultan Nazarbayev Dariga. Kenes and Timur believe that it sometimes harms their common interests.
In the last article, we reported on how Rakishev praises his person in the media. And now let's move on to his other PR-shares.
Recall that all instructions on what and where to go Rakishev gives Daniyar Ashimbaev (full-time PR Manager "verhushki" Kazakhstan), whose correspondence calls "brother". So, giving regular instructions and allocating unaccounted cash to the accomplices, says Rakishev Ashimbaeva, obviously, with a smile, "Papini Dariusu". (We are talking about Dariga Nazarbayeva). The speaker takes "under the hood" and is associated with an assigned clerk Kosenko. Kosenko writes materials on many custom themes, both negatively critical and positively image. So, according to the materials at the disposal of Rucriminal.info, December 23, 2013 Ashimbayev instructed Kosenko to write: "1. Review of recent events with Rakhat (fallen into disgrace Rakhat Aliyev-Ed) – remember the case of Sarsenbayev, Dariga's open letter (a couple of kicks would not hurt her), how "the Republic" relished the details, etc.", and "NCE-the results of the year".
Ashimbayev, by order of Rakishev, takes an active part in the formation of a positive image of Kulibayev and people around him. So, on December 6, 2013 he sent for approval Dzhambulat Sarsenov (then a member of the Board National chamber of entrepreneurs of Kazakhstan, Deputy Chairman of the Association "Kazenergy", member of the Executive Committee of the Kazakhstan Boxing Federation) letter, which contained an extensive biographical material about Kulibayev for posting on Wikipedia.
On the same day, Sarsenov said to him: "About leaving the UK need to reformulate and remove the F Ozen."
At the same time, Ashimbayev also orders, and then publishes materials of a negative nature and about the personal opponents of Kulibayev and Rakishev from among the representatives of the Kazakh ruling elite. For example, on July 25, 2012 Ashimbayev sent for approval the material "Black holes" Samruk-Kazyna", which negatively characterized the activities of Umirzak Shukeyev, who replaced Timur Kulibayev as Chairman of the state welfare Fund "Samruk-Kazyna".
April 8, 2013 user "Nurlan Zhumabek" from the box "Этот адрес электронной почты защищён от спам-ботов. У вас должен быть включен JavaScript для просмотра." sent Ashimbayev to the address "Этот адрес электронной почты защищён от спам-ботов. У вас должен быть включен JavaScript для просмотра." commissioned article from" the Times "in English" Goga Ashkenazi: not your average oligarch " and its translation into Russian . According to the materials available rucriminal.info, this article Ashimbayev was supposed to post on the Inteet to prove that Kulibayev had ended his relationship with Gauhar (Goga) Ashkenazi, the mother of his two children, and that she had a new admirer.
December 17, 2013 user "Gaziz Kulakhmetov" from the box "Этот адрес электронной почты защищён от спам-ботов. У вас должен быть включен JavaScript для просмотра." sent Ashimbayev to the address "Этот адрес электронной почты защищён от спам-ботов. У вас должен быть включен JavaScript для просмотра." letter.
It included materials for publication on the termination of the investigation against Kulibayev by the Swiss authorities. Judging by the content of the letter, the above-mentioned materials were received by the user "Gaziz Kulakhmetov" from the user "Assel Tolengut" from the box "Этот адрес электронной почты защищён от спам-ботов. У вас должен быть включен JavaScript для просмотра.".
The materials were in the original language and translated.
A few minutes after receiving the above-mentioned letter, Ashimbayev from his box "Этот адрес электронной почты защищён от спам-ботов. У вас должен быть включен JavaScript для просмотра." sent to the user "Gaziz Kulakhmetov" on the box "Этот адрес электронной почты защищён от спам-ботов. У вас должен быть включен JavaScript для просмотра." from-edited the texts of the two translations, entitled "Timur Kulibayev is justified. The case of money laundering is closed" and "Be closes the criminal case against the son-in-law of the head of Kazakhstan".From the last letter we lea the names of the Newspapers, which housed custom materials on Kulibayev-Neue Zurcher Zeitung and Le Temps.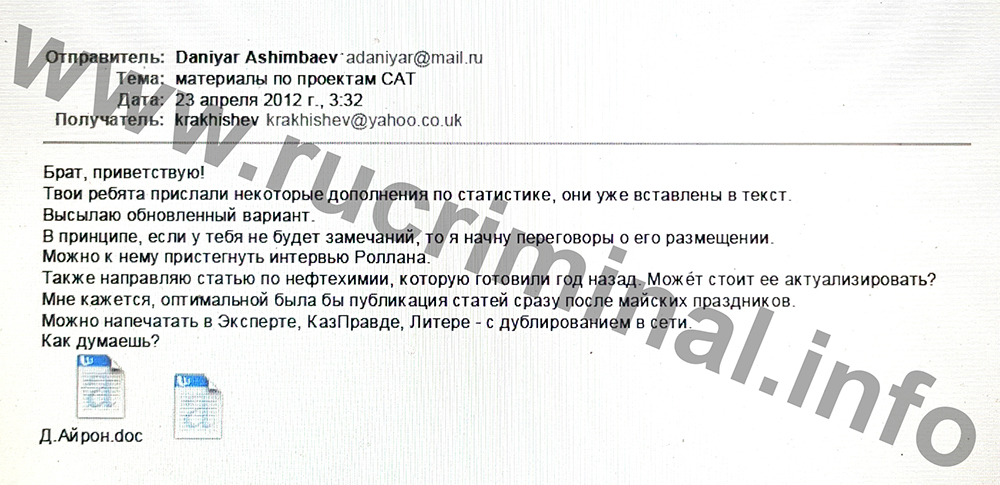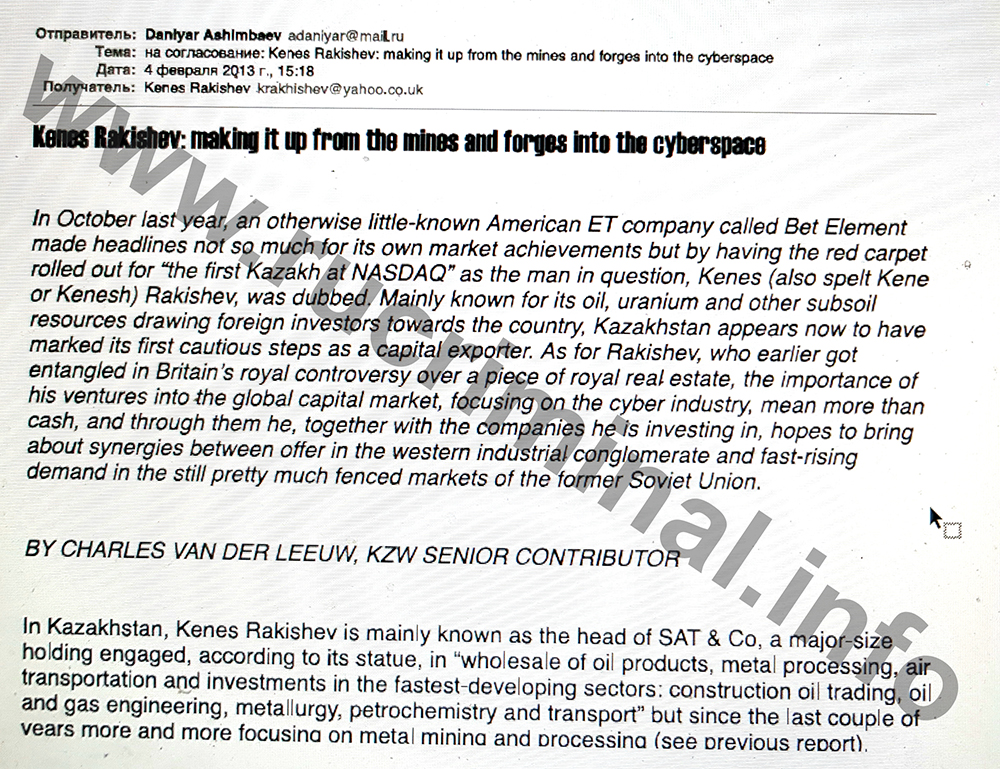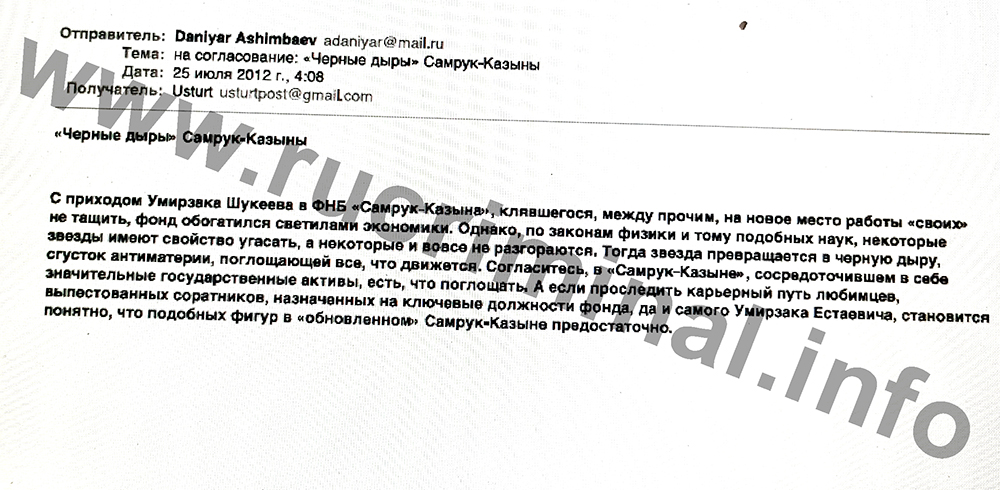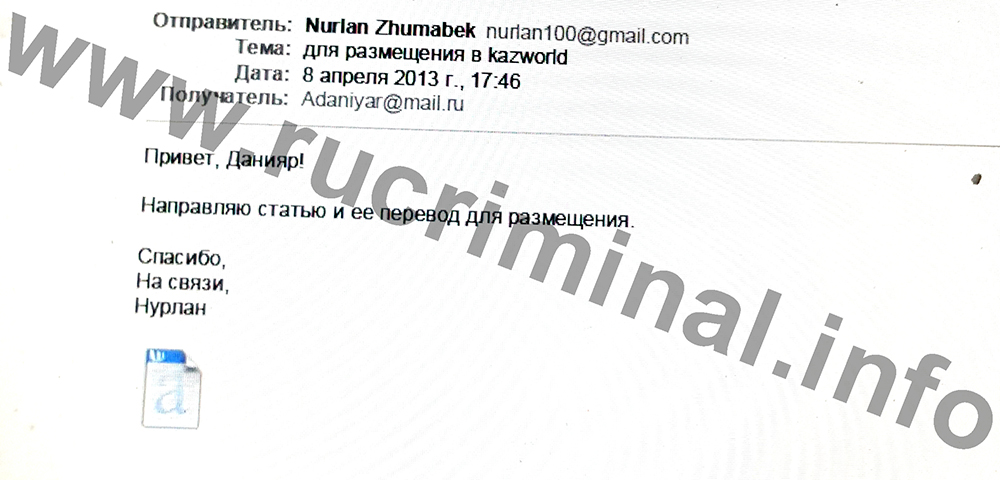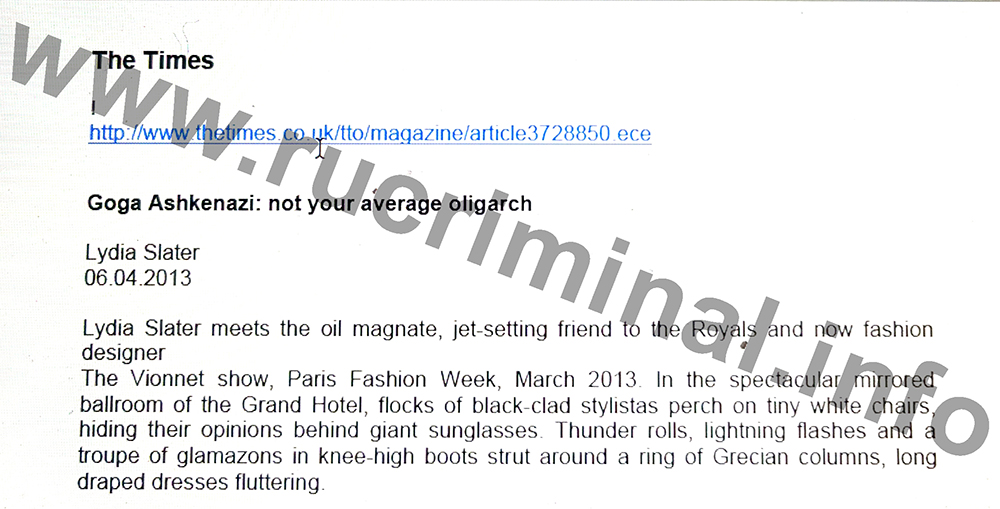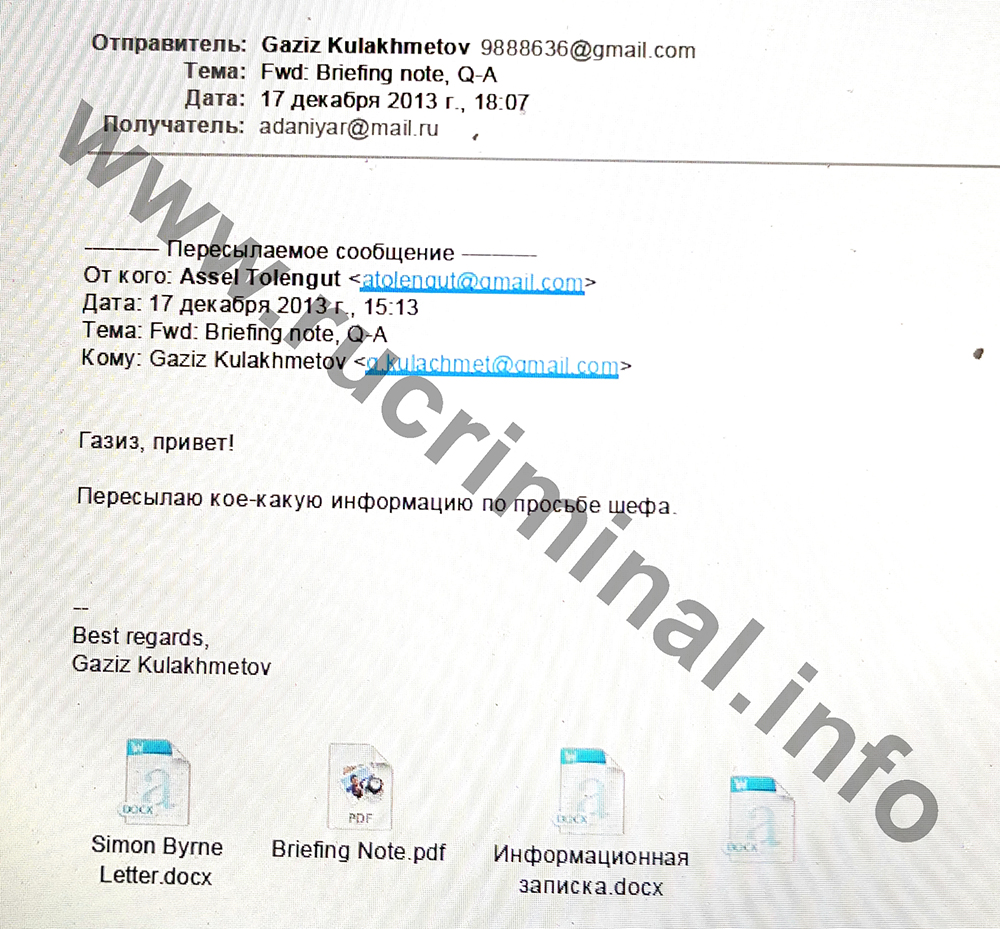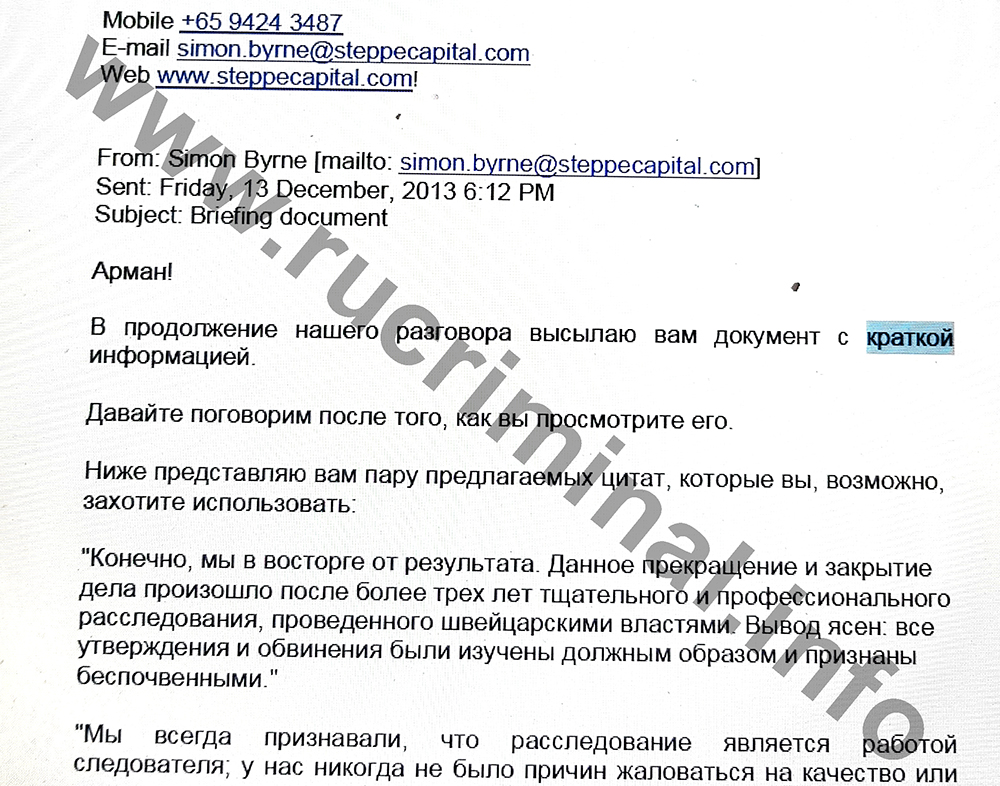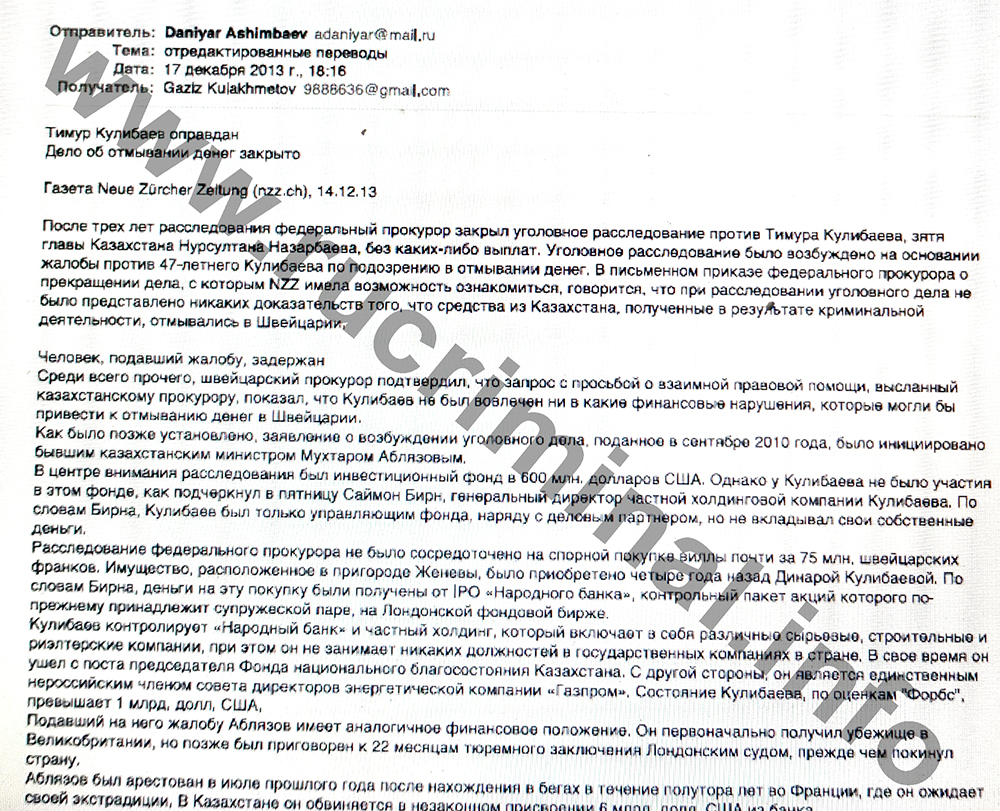 To be continued
Timothy Zabiyakin
---